Shopping, Dining, & Lodging
Looking for a place to stay, eat, or shop in McLean? We have both familiar and unique options to fit your taste and budget. Scroll through the page or use the links below to jump to a particular section.
Shopping
Cut Color N' Polish Boutique
Address: 417 South Clinton St., Unit B, McLean
Phone: 217-972-7539
Facebook page
Hours:
Tues/Wed: 9am – 6pm
Thurs: 11am – 7pm
Fri: 9am – 2pm
Sat: 9am – 12 pm
Sun/Mon: Closed
Boutique located in Cut Color N' Polish Salon, carrying a unique blend of clothing and accessories at affordable prices.
Funks Grove Country Store
Address: 8047 East 550 North Road, McLean
Facebook page
Located "just over the tracks" in Funks Grove, the Funks Grove Country Store offers antiques, primitives, vintage decor, and some "funky" junk. Cash or check only. Open only on occasion; check their Facebook page for the next opening.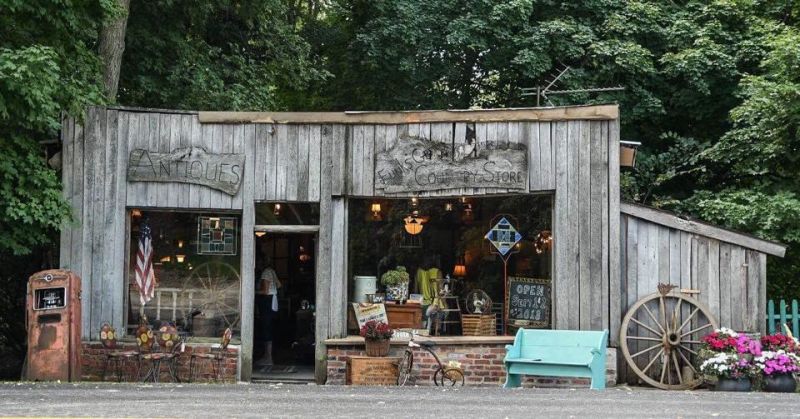 Funks Grove Pure Maple Sirup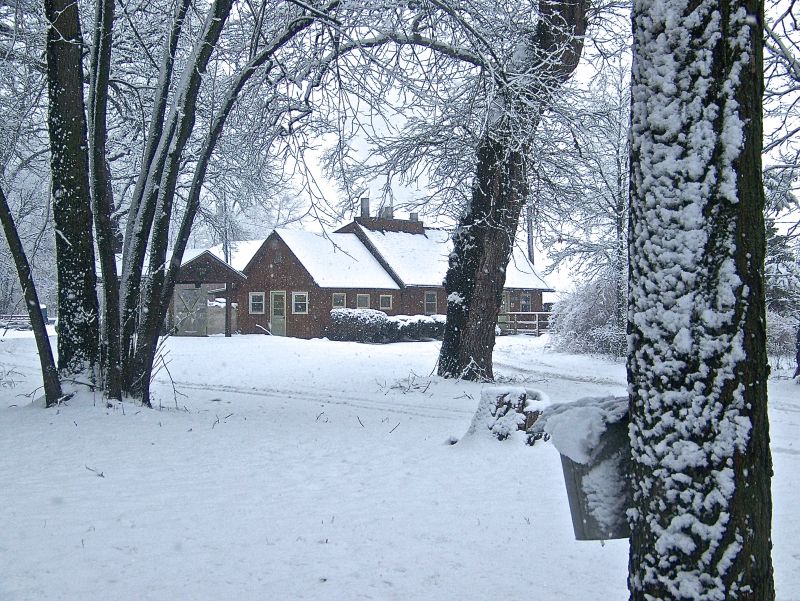 Address: 5257 Old Route 66, Shirley
Email: info@funkspuremaplesirup.com
Phone: 309-874-3360
Website: www.funkspuremaplesirup.com
The Funk family has been making maple sirup in Funks Grove since Isaac and Cassandra Funk first settled there in 1824. The commercial operation was established in 1891 and is now operated by fifth- and sixth-generation Funk family producers. Maple sirup production typically begins in February or March but is highly dependent on weather conditions—the sap flows during the change of seasons from winter to spring, with freezing temperatures at night and warmer days. The shop usually opens around the 1st of March, and during the production season, visitors can walk out into the trees to see the buckets filling and come into the sugarhouse to soak in the steam as the evaporator runs.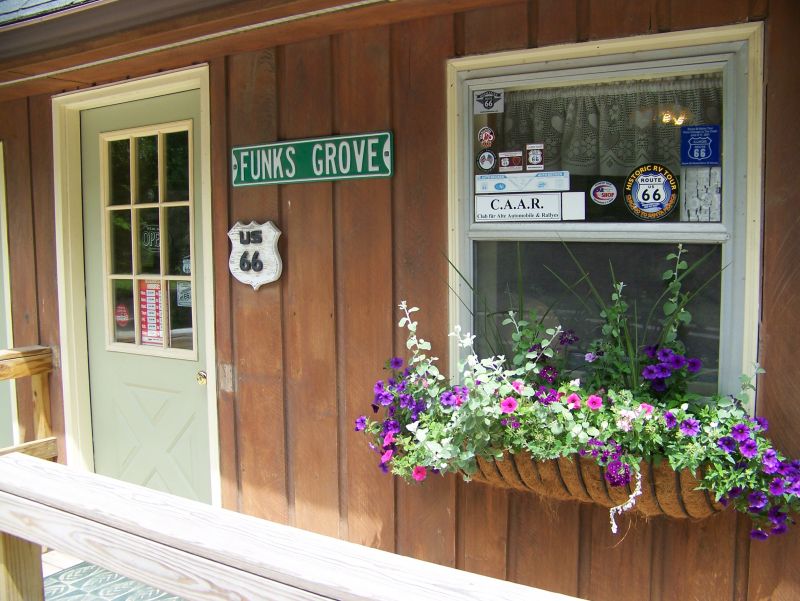 The season is usually over by mid to late March, but the shop stays open until the sirup runs out, usually around the end of August. Along with the pure maple sirup, the shop sells maple candy, sugar, and cream, as well as products from a new small family farm operation, Funks Grove Heritage Fruits & Grains, including pancake and muffin mixes and flour made from wheat grown in Funks Grove using organic practices. There is also honey, t-shirts, Route 66 memorabilia, locally made pottery, and more. For current hours, call or visit the website.
McLean Depot Train Shop
Address: 266 East Dixie Road (US 136), McLean
Email: agent@mcleandepot.com
Phone: 309-244-5900
Website: www.mcleandepot.com
Facebook page
The historic McLean Depot was erected in 1855 and is said to have been the first building in McLean. It was moved from its original location along the tracks in 1970 and is still in use, now as the McLean Depot Train Shop, a hobby shop specializing in model railroading items available in stock and through special order. Be sure to stop in and check out the model trains as well as this local historical treasure.
Vicky's Boutique & Gift Shop
Address: 417 South Clinton St., McLean
Phone: 217-725-6613
Hours:
Wednesday: 10am – 6pm
Friday & Saturday: 10am to 3pm
Shop for women's clothing sizes XS through 3XL, handmade jewelry, handbags, wallets, scarves, hats, and much more. Some antiques are decorating the shop and are also for sale.
Call Vicky to book the bus! This mobile boutique can come to your next event, or you can have your own private shopping experience at your front door.
Dining
Dixie Restaurant
Address: 501 South Main St, McLean (US 136 at the I-55 Exit 145)
Phone: 309-874-2900
Facebook page
Hours:
Monday – Friday: 5am – 11:30pm
Saturday & Sunday: 5am – 10pm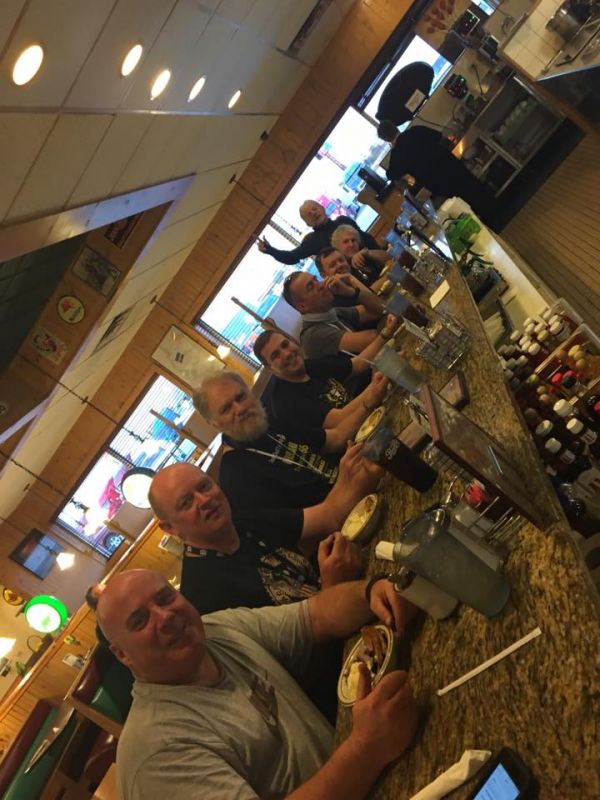 Established in 1928 on old Route 66, the Dixie has changed hands over the years but kept the original signage and name. A refuge for truckers, the truck stop is open 365 days a year/24 hours a day, while the restaurant opens at 5 am daily and closes at 11:30 pm Monday–Friday and at 10 pm Saturday and Sunday. A halfway point between St. Louis and Chicago, the Dixie is a favorite stop for those traveling historic Route 66. The restaurant still serves its famous broasted chicken, a full menu and breakfast all day long, and an all-you-can eat buffet starting at 6 am. There is also a large room in the restaurant that can be reserved for events.
The Dixie Truck Stop is currently owned by Road Ranger of Rockford, Ill., and the Dixie Family Restaurant is operated by Tom and Elaine Kapatos. The staff of the Dixie welcomes you and promises to do their best to show their hospitality, ensuring you always leave with a smile.
McDonald's
Address: 400 Main Street, McLean
Phone: 309-874-2925
Hours:
Sunday – Thursday: 6am – 11pm
Friday & Saturday: 6am – 12am
Drive Thru opens at 5am daily.
Subway
Address: 315 East Dixie Road (US 136), Suite B (next to Road Ranger)
Phone: 815-315-0774
Hours: Open 24 hours
Lodging
Arcade-Themed Airbnbs
The Original Hotel Arcadia
6 guests / 2 bedrooms / 3 beds / 1 bath
This awesome modern-design, newly remodeled apartment, located in a historic downtown building, features a 70" HD TV/gaming setup, fun kids loft, pinball machine, and four arcade games on free play. This is a companion lodging to the world-class Arcade Museum literally next door.
Address: 101 South Hamilton Street, McLean
Email: vintagevideogames.com@gmail.com
Phone: 309-287-1725
Click here to visit website
The Hotel Arcadia Suites
6 guests / 3 bedrooms / 4 beds / 1.5 baths
This amazing arcade-themed space with three roomy bedrooms, huge living room, and kitchen with cathedral ceilings features an arcade multigame on free play and a second-floor deck with a gas grill. The suites are housed in a historic building located on the village square near two main transportation arteries: Historic US Route 66, and the primary railroad between Chicago and St. Louis. Train aficionados will get a kick out of hanging out on the second-floor deck and watching the just-out-of-reach trains go by.
Address: 108 1/2 SW Park Street, McLean
Email: vintagevideogames.com@gmail.com
Phone: 309-287-1725
Click here to visit website
Vectorman's Luxury Arcade Palace
9 guests / 3 bedrooms / 5 beds / 3.5 baths
This luxurious, modern, high-tech, and richly furnished 4000-sq. ft. downtown loft home features 12-foot ceilings, three large bedrooms with 70" TVs and full baths, custom gourmet kitchen, 14-foot 3D TV/gaming projector in living room, huge recreation room with dozens of free-play, full-sized arcade games, foosball, and pinball. Sleeps up to nine with two sofa beds. Also great for extended stays! This fully equipped apartment has all you need to make your own meals, wash your own clothes and dishes, and stay entertained in your downtime.
Address: 103 South Hamilton Street, McLean
Email: vintagevideogames.com@gmail.com
Phone: 309-287-1725
Click here to visit website
Super 8
Located just off of I-55, Route 66, and Route 136, the Super 8 offers value and convenience with free wifi, parking, and breakfast. Pet friendly.
Address: 503 East South Street, McLean
Phone: 309-874-2366
Email: super8mclean@yahoo.com
Website: www.wyndhamhotels.com/super-8/mclean-illinois/super-8-mclean-bloomington-sw/overview